Thank you for Joining us for The Collaboratory: Grow the Good on May 11, 2022
Collaboratory 2022 was a virtual event with local in-person gathering options. We kicked off the event with a virtual event. Following the virtual programming, we gathered in person! Anywhere there were two or more folks who wanted to gather in person, UpStart connected individuals to others in their area! If you were in an UpStart Hub City (New York, Chicago, Denver, Bay Area or Los Angeles), larger gatherings at outdoor locations took place.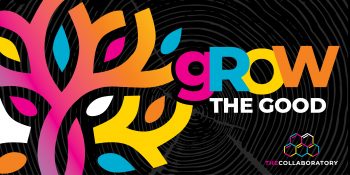 The Collaboratory 2022: Grow the Good is rooted in our shared mission to create a more just, vibrant, and inclusive Jewish future. This Collaboratory, we turned to the natural world for guidance on how to grow the good in our teams and communities.
We explored bold models for approaching entrepreneurial leadership, difficult communal conversations, and creative funding models. We got to know one another, and spiced things up with the bright flavors of Israeli cuisine. And of course, we did all this at the intersection of our community – the entrepreneurs, institutional leaders, and funders, who are Growing the Good in the Jewish community every day.
Keynote Speaker
Toby Herzlich , Founder of Biomimicry for Social Innovation
Toby Lynn Herzlich is the Founder of Biomimicry for Social Innovation, a not-for-profit dedicated to applying nature's intelligence to leadership, social change, and organizational development.
She speaks and trains nationally and internationally, with recent appearances at the Festival of Faiths and the 2021 national Bioneers Conference. Her workshop offerings include Discovering Nature's Genius for Social Innovation, and Living Systems Leadership, a retreat for Women.
Read Toby's full bio here.
Presenter
Adeena Sussman, Chef and Author of Sababa: Fresh, Sunny Flavors from My Israeli Kitchen
Adeena Sussman is the author of Sababa: Fresh, Sunny Flavors From My Israeli Kitchen, which was named a Best Fall 2019 cookbook by The New York Times, Bon Appetit, and Food & Wine. She is currently working on her followup cookbook, all about the foods of Shabbat.
The co-author of 14 cookbooks, three of Adeena's recent collaborations, including Cravings and Cravings: Hungry For More with Chrissy Teigen, were New York Times Best-sellers. The Gazoz Book, a homemade sparkling beverage guide she co-authored with Benny Briga, comes out May 25th.
Read Adeena's full bio here.