Originally Published on LinkedIn on April 26, 2022
By Eli Malinsky
Deputy Director, Business & Society Program, The Aspen Institute and UpStart Board Member
It is well established that I hate hybrid events. In fact, I couldn't even handle teleconferences when some people were in the room and others weren't. I have always felt that these blended approaches lead to uneven and unequal experiences in which the whole is less than the sum of its parts.
Well, look at me now. I've recently returned from delivering our first ever hybrid seminar in the Catalina Foothills just outside of Tucson, Arizona. Over the course of four days, we convened the 2021 class of Aspen First Mover Fellows for their first in-person seminar. And we delivered it in a hybrid format.
Why did I change my tune? Quite simply, our Fellows deserved it. After four months of virtual convening, most of them desperately wanted to convene in person. And as leaders of this program, it wasn't enough to simply say "it was too difficult" – we needed to bring the same enthusiasm and creativity to the hybrid challenge that we brought to the digitization challenge of 2020.
And creativity would be essential. Not only would we need to design an experience that worked for folks at home and in the room, but we also wouldn't know exactly who – or how many – Fellows might be in either camp, since we required a negative COVID test before participants could join us in the room. Any one of the Fellows – or staff – who planned to participate could get knocked out at the last minute.
I am proud to report that the week was a powerful and meaningful experience for all of us. It may not have been flawless, but it was a great foray into the world of hybrid, and I wanted to take a moment to share some key learnings:
Check your tech. "Seamless" might be a tall order but coming close is essential. Every technical hiccup and delay threatens to jolt participants out of the experience you have so carefully designed. Your first task is to get perfectly clear on what you need the technology to do – and what you can afford.
In our case, we needed everyone in the room and at home to see each other, clear audio in both directions, capacity for breakouts that combine in-person and at home participants, and the ability to share screens and facilitation. We translated these needs into a set of specifications and found an experienced vendor who could deliver. We then tested, double tested, and triple tested to make sure it would work as planned.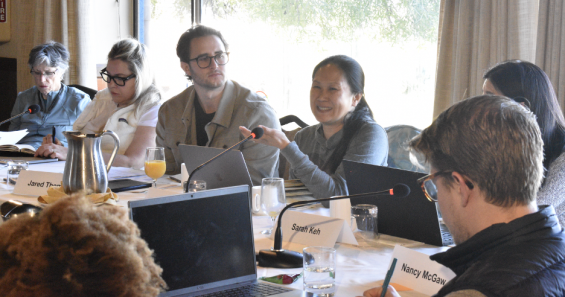 Our set-up included gooseneck mics on the table for audio, two stationary cameras + a mobile laptop to capture the folks in the room, and a large screen so that those of us in the room could see the folks at home.  
Use a range of formats. A successful hybrid event does not mean streaming the in-room experience for an at-home audience. It means designing a robust, varied, and blended program that leans into the unique demands of the format. Some of our sessions were held in the room and streamed to those joining us remotely. But some sessions had online facilitation, even for those in the room. In fact, we also delivered entirely digital sessions where Fellows who were on-site were expected to find private space, pull out their laptops, and participate online. This variegated approach helped to level the playing field by creating a range of experiences in which the folks at home were not systematically disadvantaged.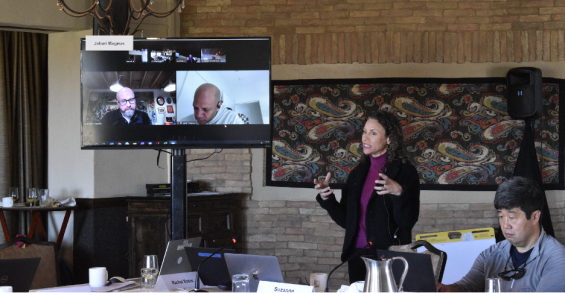 Joe Brown facilitated the session jointly with Suzanne Howard – Suz was in the room with us in AZ and Joe was at home in CA. 
Show some love to those at home… No matter how creative you might be, the experience for those at home will not be the same as those in the room. Rather than try to make the experience even or equal for all, it is better to accept the two realities with solutions appropriate to each. As a result, we repurposed the budget we would have otherwise spent on their in-person participation to other activities. For example, we sent our remote participant to a local spa and arranged for dinner delivery so he could enjoy a meal with his family. And of course, it's about thoughtfulness, not extravagance (e.g., mandated walks in nature). The remote audience might not be there in person, but a little creativity will help create a sense of separation from the regular day-to-day.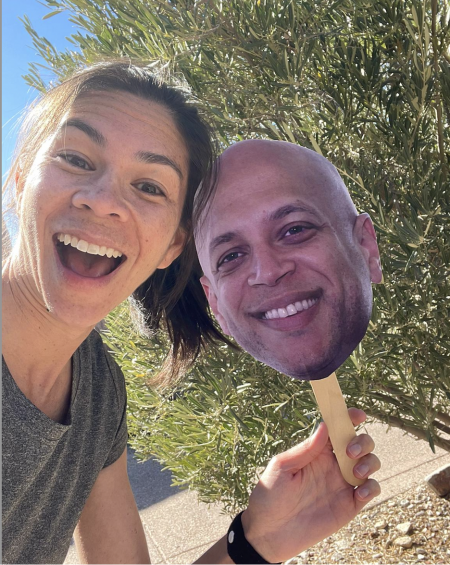 We found ways to bring our at-home attendee into the in-person experience. Jabari on a stick! 
…But don't over-index on the remote audience. I credit this counter-intuitive advice to a friend and co-facilitator, Darko Lovric. As a program designer, I wanted our at-home audience to feel as engaged as possible. Our team was brimming with ideas, but Darko reminded me that we must not let these efforts compromise the experience for those in the room. Fellows gathered in person deserved a unique and compelling experience, and we have a responsibility to serve them even if it meant some loss of experience for those at home. So yes, we did some activities – dinners, hikes, etc. – that we didn't open up for those at home. We also made the decision to use two stationary cameras rather than a laptop in front of everyone. While it would have been better for our stay-at-home audience to have every participant easily visible on the screen, computers on every desk would have compromised the experience for those in the room, who benefit from the unmediated intimacy of direct sight lines.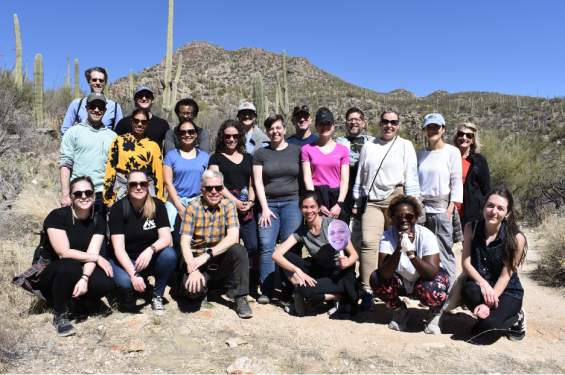 Would I do it again? Never! But given the volatility of this moment, I may not have a choice. Between the ebb and flow of this pandemic and the quickly changing rules and norms around remote work and in-person gathering, the ability to deliver compelling hybrid events is a necessary skill for any program designer – and perhaps any leader.
If you've experimented with hybrid, I'd love to hear your experience, reactions, and advice. The road is wide open, and we all have a lot to learn.